Mudcontrol was established in the UK in 2017, supplying high quality, heavy duty, 100 per cent recycled plastic products. Now, the revolutionary product is sold in over 40 countries worldwide and has proved highly popular with UK farmers.
The small team of Kerry and James at Mudcontrol concentrates on providing great customer service as well as great products, with no minimum order – no order is too big or too small.
"Our Facebook community is very active, with customers past and present sending us photos, videos and stories of their Mudcontrol projects," says James Trembecki, UK sales. "We have continuous 5* reviews, and a huge proportion of our business is repeat custom. Our biggest problem has been keeping up with demand, because the manufacturer couldn't make slabs fast enough to keep up with our sales – we sold over 9 acres of Mudcontrol slabs last year and are expecting sales to double again this year."
While the company specialises in the ground-breaking Mudcontrol slab – which has revolutionised mud control in the UK, and is now sold in over 40 countries worldwide – it also supplies 100 per cent recycled plastic fencing and associated products.
"The fencing products are strong and reliable, they won't rot and are not palatable, so livestock usually leave them alone, and they won't ever need painting or treating. They can be nailed, stapled, screwed into, sawn and installed (by machine or by hand) in the same way a wooden post can, with no maintenance required," states Mr Trembecki. All products have a solid 20-year manufacturer's warranty.
"Mudcontrol slabs are used to arrest mud in a huge selection of applications – if you need instant, DIY, porous, removable, reusable hardstanding for anything from a pygmy goat to a bull elephant, we can help.
"They require minimal or no ground preparation – they are the sub-base and base in one, you just need to remove any stones, hard lumps, or voids before laying them straight onto the mud/soil/grass, and then topping them with sand, wood chip or bedding if it's for animal use – and you can drive vehicles and machinery of up to 60 tonnes over the slabs. They can be installed on any ground, and are as permanent or temporary as you need; a perfect alternative to concrete, without burying your investment."
For pathways, tracks, loafing areas, feed areas, 'pony patios', gateways, parking, storage, wherever mud is a problem – Mudcontrol is the solution, the company says.
With rural crime on the rise, making sure your farm security is up to scratch has never been more important. Yorkshire-based 24 Networks and Security, which works with farmers nationwide to protect their property, installs CCTV and alarms that can be managed remotely from a single app on a smartphone, tablet or PC.
Hikvision cameras can be programmed to detect motion at particular times of day and even automatically swivel to track movement. Alerts are sent to the farmer's smartphone if the motion sensor is triggered.
Wireless cameras can be installed to avoid the need for cables and even if cameras are placed miles away – in a barn for example – 24 Networks can install an internet bridge, making the camera systems ideal for rural use.
As well as offering security benefits, CCTV doubles up as a useful tool for calving and lambing sheds, allowing farmers to watch footage from their living room TV rather than physically checking on the animals.
24 Networks can advise on the design, installation and maintenance of security systems, offering a wide range of security equipment to suit various requirements and budgets.
Many farming clients seek help with improving security after a theft has taken place, but with rural crime at its highest level in nearly a decade, the company says it is worth taking preventative action
Keith Rennie Machinery (KRM) offers a comprehensive range of fertiliser spreaders, from Danish manufacturers Bogballe and Bredal. The range extends from the 700-litre (1 x 600kg bag) L15 through to the 15,600 litre (26 x 600kg bag) K165.
The Bogballe range is split into L-Line and M-Line. Within the Ls are L15s with spread widths from 6-18m and capacities up to 1,600 litres (two bags) and L20s which will spread to 24m and carry up to 2,000 litres (three bags). The M-Line machines are all capable of 42m spread and break down into M35s (up to 3,750 litres), M45s (up to 4,500 litres) and the world's biggest mounted spreader, the M60, with a maximum capacity of 5,550 litres.
Electronic controls are available across the range, with weigh-cells being available and an increasingly popular option across L20s and the whole M-line range. KRM's section control system 'Dynamic Section Control' works by dividing the spread width into 40 sections: eight main sections with five sub-sections each. Actuators alter the drop-on point independently to each disc whilst also regulating the application rate. Dynamic Section Control is available across the M-Line range.
The proportion of 'top spec' machines being sold with weigh cells, Dynamic Section Control and GPS increases year on year, as does the proportion being supplied Isobus, KRM says. As you would expect from a supplier specialising in a single product line, a wide variety of options are available to tailor the machine to your specific requirements – whether that's a two- row orchard kit, hydraulic drive or a big bag lifter.
The Bredal offering is split into the K-Series (for lime and fertiliser) and the F-series (fertiliser only). The F-series includes two mounted models and two trailed models. The mounted F2 has an all-mechanical set up, whilst the F4 has weigh cells and Isobus control as standard. Most of the F4s sold are also supplied with section control and hydraulic drive, and both the F2 and the F4 have a maximum capacity of 4,000 litres.
An option for anyone wanting more, the trailed options include the F8 (5,700 litres) and F10 (7,600 litres). Like their mounted stable mate, these models are most commonly supplied with section control.
For those requiring more capacity still, the K-Series extends right through to 15,600 litres. K-Series machines can be supplied with the standard spread unit or with the XE widespread system. Here the discs are mounted 6m apart and fed by short transfer belts from the main floor belt. Two versions are available; one for lime up to 30m and one for fertiliser, which can be specified with section control.
PFC Agri Solutions is offering direct sales of the Elkaer hedging equipment for agriculture, forestry, railway and lawn maintenance.
Looking specifically at the HKL Fox frame and HS2300 saw unit, it provides massive output in dense hedges and forestry conditions when mounted to tractor front loaders or a telehandler, PFC says.
They are particularly suitable for maintaining all kinds of hedges, paths and railway lines with a branch thickness up to 25cm. The heavy-duty HKL Fox frame offsets hydraulically by up to 1.5m. The fallen debris can be collected for disposal or chipping with a front grab when the tractor is fitted with front linkage.
A rear flail topper can mulch the debris in one pass up to 100mm. The HKL Fox will pivot the saw head 210 degrees, allowing hedges to be shaped as required. The complete system requires two double acting valves and a free-flow return to operate the saw blades. This can be linked directly to the tractor spool valves or utilise the optional electrohydraulic valve
The HS2300 saw head has 2.3m cutting width using 3 x 80cm blades. The bales are offset to promote an even feed of material and significantly reduce the risk of blade stalling. The blades only require 65-litres/min oil flow for full output with operating speeds up to 8kph. The saw is protected by a depth wheel when operating close to the ground level.
The smooth finish of hedges that are overgrown compared to the flair trimmers means that the habitat for wildlife recovers faster and helps maintain the natural barrier a hedge is supposed to provide.
PFC also offers a full line of contractor equipment for highway, forestry, railway and lawn maintenance.
Focusing on the highest capacity saw heads available, PFC offers the HS2300 and HS3800 with cutting widths of 2.3m and 3.8m respectively. The company says the saws share some impressive statistics to provide massive output in dense hedges and forestry applications, whether mounted to tractor front loader, 360-degree excavator or the HK-Max multi-function tool frame.
Both machines are fitted with belt- driven 800mm blades, powered by either a standard orbital motor or optional piston motor requiring only 60-litres/min oil flow and a maximum working pressure of 250-bar. The large blade size can cut through a maximum branch diameter of 250mm.
The HK-Max multifunction tool frame with stability wheel offers a maximum working height of 8.5m with 7.2m of horizontal movement. To increase output and reduce operator fatigue, an electronic adjustment device allows for even cutting over rough terrain in addition to the electronic joystick control.
Finally, to create a true one pass machine, the PTO driven SK2500 mulcher can pulverise branches and heavy scrub up to a diameter of 100mm.
For those operators who increasingly have to deal with two- or three-year growth, a saw head is the best answer over a flail head, PFC reckons. Using a saw head will leave an even clean cut providing a faster habitat recovery and better secure boundary.
Operating cost is also a factor. Flails are expensive to run on heavy material while also requiring multiple passes. The HS saw head will finish both sides of the hedge in as little as three passes with the HS2300 or HS3800.
For your hedging equipment needs, the Elkaer range has the quality and product specification you require, PFC says. With many options available, there is something for everyone, from the smaller operation to large-scale hedge management.
Award-winning British manufacturer Razorback is encouraging farmers and contractors to re-evaluate their hedge cutting equipment prior to the new season to ensure they are getting the best output and cut.
"Before the new season comes into full swing now is the perfect time to have a look at other options on the market," says territory sales manager Josh Allen.
"We have a lot of customers come to us who are looking for a hardworking, reliable machine who are impressed with the level of innovation and technical specification offered by our range."
Razorback currently offers two models in its hedge cutting range, including the Auto-Level 550 and the Auto-Level 680 telescopic. Both feature patented self-levelling technology that offers drivers smoother operation and improved controls.
"Our Auto-Level Series comes with advanced electronic proportional controls as standard, incorporating a 3-axis joystick for simple and precise operation," says Mr Allen.
"Both the 550 and 680 models come with a choice of heads including the 1.2 and 1.5m Razorback Flail Head which has been designed for better trash flow through the hood and an efficient cutting action.
"Featuring a SoftStart rotor fitted with heavy-duty forged hammer flails, the Razorback Flail Head is suited
to high output, dense vegetation management and is a popular choice amongst our customers."
Contact Razorback directly to book a demonstration.
BKT's Ridemax tyre range is expanding with a new size for the Ridemax FL 699 – 525/65 R 20.5, which joins the existing 24 R 20.5.
BKT is always looking for innovation through an increasing focus on environmental sustainability, which gave rise to Ridemax – a tyre range designed for transport operations with tractors and trailers, in agricultural and industrial applications. It has been developed for stability at high speeds, to support heavy loads in order to reduce transport cycles, and to reduce rolling resistance – thus consuming less fuel.
Ridemax FL 699's new 525/65 R 20.5 size further enriches the BKT catalogue which already features over 2,700 products.
The company's goal is to find solutions that can meet every need and application, developing the right tyre for every circumstance, thus enabling users to save time, resources and reduce consumption.
The Ridemax range includes the following products for trailers: FL 699, FL 693 M, FL 690 and FL 690 IND. And the following tyres for tractors: IT 696 and IT 697 (M+S).
Ridemax FL 699 opens the Flotation range for agricultural trailers and tank trucks and has an all-steel structure to withstand a high load capacity, decreasing the number of transport cycles. It also features a reinforced bead which guarantees stability even at high speeds and ensures a comfortable ride, offering safety and control.
Agri Market Insight & Access (AMIA) has announced the appointment of Chris Lunn to the role of vegetable machinery specialist. Chris has been involved with worldwide vegetable, salad and vinicultural industries providing mechanical weed control solutions for years. This appointment brings extensive knowledge that will allow AMIA to develop its specialist vegetable machinery division.
AMIA already imports and sells precision planters, transplanters, plastic layer machines, and both mechanical and camera operated inter-row weeders from SFOGGIA. Also, Valentini stone buriers, bed formers, power harrows and rotavators, as well as Nardi ploughs and combined cultivators to meet demand.
AMIA exclusively distributes Caffini sprayers, from orchard models to 36m self-propelled versions. Sator manufactures a range of vegetable harvesting equipment, including onion harvesters and toppers – also, a range of vegetable cleaning and packing equipment.
All the above products have a place with any grower from the small market garden enterprises through to large multinational companies.
Chris Lunn says: "We supply most of these products direct to customers to ensure they get the best deal, the correct information and product support. As we move to spring and planting, anyone who requires a new precision planter, a new transplanter or a mechanical weeder to control weeds that no longer have a chemical control, can contact me so I can find the solution that best suits their requirements."
Dairy technology company Waikato Milking Systems has announced the launch of an exciting new product to help farmers make better long-term decisions for the care of their herd, and their dairy businesses.
Waikato recently launched its new CowTRAQ Collars and TracHQ software in partnership with dairy management technology company, Nedap. Waikato's GM sales and operations ROW, Jamie Mikkelson, said the CowTRAQ Collars offer complete heat and health monitoring for every cow in the herd.
"The collars can identify each cow and keep track of their signs of heat, position, eating, rumination, standing, lying, walking and inactive behaviour 24/7. It provides a precise and complete picture about the fertility, health, well-being and nutritional status of each cow and each herd."
The collars offer farmers a chance to improve in several areas, including reproduction results, increased labour efficiency as well as farm management, to get more productive and sustainable herds.
"Better cow health and condition is also an important area where the collars can make a difference, by detecting health issues earlier," Jamie said.
"That means treatment and recovery can be more effective, fertility can improve and long-term it can reduce mortality rates."
Jamie said the data the collars supply can save on costs and give cows the individual attention they need.
"It means farmers can focus resources on the right cows, at the right time, with the correct treatment. It'll help farmers keep a close eye on the health, comfort and wellbeing of their animals, while increasing production using the same or fewer resources."
Waikato's TracHQ software translates data captured by the collars into information the operator can understand and easily view on a PC, tablet or smartphone. Everyone working on the farm can have access to real-time information and insights on each cow or herd.
"It can generate real-time and relevant alerts, to-do lists, reports and barn maps to help manage and control the herd," Jamie said.
TracHQ also integrates with farm automation systems and dairy management programs. It can easily connect with the Waikato range of milking point controls, milk indicators, milk meters and milk analytical sensors. "It can also connect with our automated sorting system, to automatically sort animals that are either on heat or have an alert that has been raised against their number."
TracHQ is a modular solution so upgrading to include auto sorting and integration to milking solutions and feeding in the future is simple. It comes with a three-year, 100 per cent replacement warranty, and graded warranty thereafter. Typically, operating life is 8–10 years.
Jamie said the new technology will help farmers improve their bottom line by making data-driven decisions. "Together, CowTRAQ and TracHQ give farmers an all-in-one, 24/7 cow management system to help them meet the challenges of operating a modern dairy farm."
Nene Transport owner and founder, Gareth Franklin, wanted to automate his potato bagging system to provide a reliable supply chain of chipping potatoes to an ever-increasing customer base.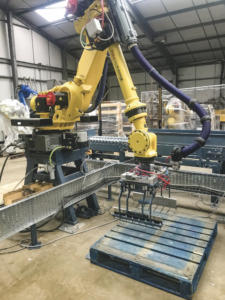 After visiting other local farmers, he contacted Nick Cesare, owner and founder of Pace Mechanical Handling Ltd in Spalding. Pace has been a family-run business for 25 years and was able to provide a top-quality product to suit Gareth's budget.
Following a visit to the Pace factory and a site visit from Mr Cesare, they decided on a combination of new and reconditioned equipment. A fully automatic system was supplied consisting of paper sack presenter, in bag weigher, stitcher line, and a twin cell Fanuc robot palletiser.
Gareth says: "I went to Nick as I knew I would get a proper job done from start to installation, without cutting corners and a fair price. I would recommend Nick and Pace to anyone who is looking for bagging and weighing and palletising equipment."
Pace Mechanical, which is celebrating its 25th anniversary, manufactures all equipment in- house. A newly-purchased 200t press brake bends the laser cut parts, and there is a choice of Fanuc (pictured), Motoman and Kawasaki robots. Nick says the company is "flat out" with orders and a new building was erected last year to help get the jobs done.
For farm employees who work alone or in dangerous environments, there is always a risk they may find themselves injured or in danger without a way to contact the emergency services.
StaySafe is a smartphone app and cloud-based monitoring service that enables employees to check-in safely and request immediate assistance to their exact location in an emergency.
The app offers a wide range of functions, including a panic button, check-in, man-down and duress alerts. Employees are able to start a timed session before they begin a period of lone work or travel. This triggers a countdown and activates a satellite GPS tracker, visible in the Hub. If an employee fails to end their session safely, a session expiry alert will be sent to the monitor.
Employees can also set fixed check-in periods. They can check in at any point within this time period to confirm that they are safe and reset the clock. Failure to do so by the end of the timed period will raise a missed check-in.
The StaySafe app offers 16 per cent more coverage than any other lone worker mobile app, so staff operating in rural areas with low signal can still send updates.
The app is deployed by hundreds of organisations – from large companies down to SMEs in over 40 countries worldwide – and is used by a number of farming and agricultural workers